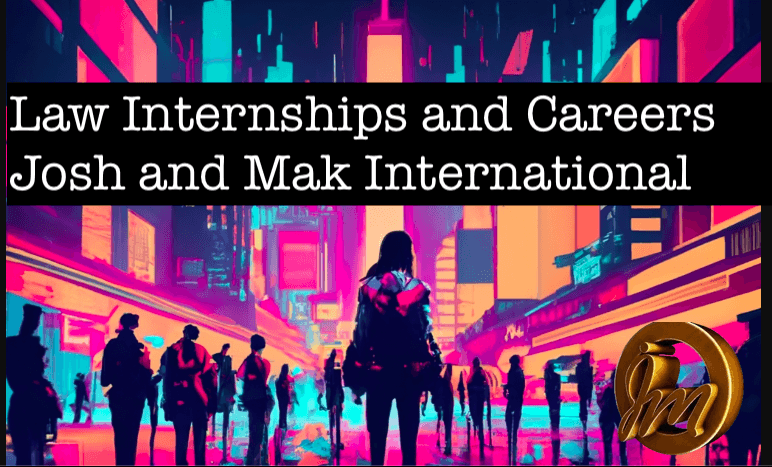 Update 6th of September 2023
There are no vacancies for Junior Lawyers or Associates at the moment. We will however seek to recruit lawyers on contracts across Pakistan over the next few months and mention on this page that we are actively interviewing for such contracts later in the year.

Starting from August 2023, we are considering applications for internships that are purely research-based and online. The terms and conditions have been accordingly updated below. Please read all the content on this page before applying at aemen@joshandmak.com 

Please do not contact us via call or text for your application.

Applications for internships that indicate that the applicant has not taken the time to read this page properly will be rejected without a reply. Many interns are applying asking for paid roles and internships which we are unfortunately not offering at the moment as liberally indicated on the rest of this page.
As of September 2023, applicants must have their own valid membership of the Pakistan Law Site or access to a proper physical law library at their Universities in Pakistan.
If the applicants are overseas Pakistanis wishing to complete their internship before they come back to practice in Pakistan,  they should let us know they will be working from abroad and we will accommodate them accordingly.
Update 5th of September 2023
The page Messages for Interns has been updated for current interns.
The page Register of Interns now has everyone's research interests up-to-date.
Update 14 August 2023
Important Links for Current Interns have been created as follows:
Performance Appraisal Guidelines 
About Internships at Josh and Mak International
Please note that none of these internships are paid and we cannot offer you stipends or expenses. For a better learning experience, you are expected to purchase your own individual Pakistan Law Site Membership. You can work from anywhere in the world and are expected to have a fast internet connection and should be able to respond quickly to emails. Please note that if you are looking for an internship experience where you wish to be present at the Firm's office or accompany the legal teams to courts and tribunals, this internship is not for you. This is a strictly online and research-based internship.
An online internship with Josh and Mak International can offer you a valuable and enriching experience that contributes to your personal and professional growth. As an intern with our firm, you can expect the following benefits and opportunities:
Practical Learning Experience: You will have the chance to apply the knowledge and skills gained during your academic studies to real-world scenarios. Our online internship allows you to work on live projects, conduct legal research, draft legal documents, and engage in various tasks that provide hands-on experience in the legal field.
Mentorship and Guidance: Throughout the internship, you will receive guidance and mentorship from experienced professionals within our firm. Our team of seasoned lawyers will provide valuable insights, feedback, and support to help you excel in your role.
Exposure to Diverse Legal Matters: Josh and Mak International deals with a wide range of legal matters, including family law, property law, corporate law, commercial contracts, intellectual property, energy law, environmental law, and more. As an intern, you will have the opportunity to work on diverse cases, broadening your understanding of various legal areas.
Flexible Remote Work: Our online internship offers flexibility in terms of working hours and location. Interns are You can complete your tasks from the comfort of your home or any other suitable environment, allowing you to balance your academic commitments and personal life effectively.
Networking Opportunities: During your internship, you will have the chance to connect with legal professionals, associates, and other interns, expanding your professional network. Building these connections can be beneficial for future career prospects.
Resume Building: Completing an internship with Josh and Mak International adds value to your resume. It showcases your dedication to continuous learning and practical experience, making you stand out to potential employers in the legal field.
Exposure to International Clients: Our firm serves both national and international clients. By interning with us, you will gain exposure to cross-border legal issues and international business transactions, providing you with a unique perspective on global legal matters.
Certificate of Internship: Upon successful completion of your internship, you will receive a certificate that recognizes your contributions and achievements during the internship period. This certificate can be a valuable addition to your professional portfolio.
Skill Development: Our online internship offers opportunities to enhance essential skills such as legal research, drafting, communication, problem-solving, and time management. These skills are invaluable assets in any legal careers.
Cultural Exchange: Josh and Mak International embraces diversity and welcomes interns from different cultural backgrounds. Engaging with a diverse team promotes a vibrant and inclusive online work culture, fostering a global perspective.
General Rules of Internship:
All internships will have a standard duration of 25 days. However, exceptional performance may result in an extension beyond this period.
While we value your contributions, please note that completing an internship with us does not guarantee permanent employment unless your work performance and punctuality meet our expectations.
Issuance of a certificate of internship or a letter of recommendation is not guaranteed and will be subject to evaluation of your performance during the internship.
Access to ongoing projects and cases may be limited for junior lawyers and interns due to the sensitive nature of our client's businesses.
If you are being considered for employment, we may require you to provide your NIC and/or ID card. However, please refrain from sending any personal information or documents until requested, as we cannot ensure their confidentiality or data protection otherwise.
Our firm takes any form of theft, harassment, or identity fraud seriously. Engaging in such activities will result in immediate police action, and any outstanding debts or misconduct may be reported to your future employers or academic institutions.
Instances of sexual harassment will be dealt with firmly, and any associates involved may face serious consequences, including reporting to the Bar and license cancellation.
Terms and Conditions 
2. Intellectual Property: All intellectual property rights in the work and research created by the Internee during the internship shall belong exclusively to Josh and Mak International. The Internee agrees not to claim any ownership or rights over the research work created during the internship, unless they have, as a result of this work, created unique legal opinions or articles which they may wish to publish elsewhere or list on their CV for academic professional credits later on in their career.
3. Website Credit: In instances where the Company uses the Internee's research work on its website or other promotional materials, brief credit will be given to acknowledge the Internee's contribution.
4. Confidentiality Clause: The Internee agrees to maintain the strictest confidentiality with respect to any information shared by Josh and Mak International during the course of the internship. This includes but is not limited to, confidential client information, trade secrets, and other proprietary information.
5. Online Collaboration and Work: The internship primarily involves online collaboration and work. The Internee shall use the provided materials, platforms, and tools responsibly and professionally while adhering to the Company's policies and guidelines.
Social Media Usage: During the internship, the Internee shall refrain from engaging in controversial political opinions and discussions on their social media platforms that could negatively impact the image of Josh and Mak International.
Review of Digital Footprints: Josh and Mak International reserves the right to review the Internee's public domain data (digital footprints) for the purpose of assessing their qualifications for extending the internship period beyond the agreed 25 days or for potential future employment offers.
No Employment Guarantee: Completion of the internship does not guarantee permanent employment with Josh and Mak International.Based on your performance you will get a recommendation letter from the Firm
We aim to maintain a professional and respectful environment for all our interns and associates, and we appreciate your understanding and compliance with these guidelines.
Acceptable AI Use Policy for Legal Interns (2023)
1. Purpose and Scope
This AI Use Policy outlines the guidelines and expectations for legal interns at Josh and Mak International ("Firm") when using Artificial Intelligence (AI) tools and technologies during the course of their internship. The policy applies to all interns who have access to AI tools provided by the Firm.
2. Authorized Use of AI Tools
a. Legal interns are authorized to use AI tools provided by the Firm solely for legitimate and lawful purposes related to their internship responsibilities and tasks.
b. Interns must not use AI tools for personal, unauthorized, or unethical purposes, including but not limited to accessing confidential or proprietary information not relevant to their assigned tasks.
c. Interns cannot input any personal information or facts of legal matters they are asked to provide research on into the AI platforms.
d.Acceptable and recommended use of AI tools would be for spelling and grammar checks as well as assistance in analysing and formulating research questions and strategies.
e.Interns asking questions and pasting output from AI tools will be subject to termination of their internship contracts with immediate effect.
3. Proper Training and Guidance
a. Prior to using AI tools, interns will receive proper training and guidance from the Firm's AI experts or designated personnel to ensure they understand the appropriate use, limitations, and potential risks associated with the tools.
b. Interns are encouraged to seek assistance from supervising attorneys or designated personnel if they encounter any issues or uncertainties related to AI tool usage.
c.Interns are discouraged from using AI for anything other than assistance in analysing collated legal information, formulating research questions, assistance in formatting and spell/grammar checks and summarization of their findings.
4. Data Protection and Confidentiality
a. Interns must adhere to strict confidentiality and data protection principles when using AI tools, particularly when handling sensitive client information or other confidential data.As per our firm policy we do not share client information with interns, especially where sensitive personal information or trade secrets are involved.The interns are given a scenario for legal research and are encouragad to formulate coherent and intelligent legal questions as pathways for research.
b. Interns shall not disclose or share any information obtained through AI tools with unauthorized individuals or parties outside the Firm.
5. Responsible AI Use
a. Interns are expected to use AI tools responsibly, ethically, and in accordance with the Firm's policies and professional standards.
b. The use of AI tools should supplement legal research and analysis, not replace critical thinking and professional judgment.
6. Compliance with Legal and Ethical Standards
a. Interns must comply with applicable ethical standards in the international legal industry when using AI tools, ensuring that their actions uphold the integrity of the legal profession.
b. Use of AI tools should not violate any professional conduct rules or create conflicts of interest.
7. Quality Control and Verification
a. Before relying on AI-generated information or analysis, interns must verify the accuracy and reliability of the results, cross-referencing with traditional legal research methods.
b. Interns should report any inaccuracies or potential issues with AI-generated information to their supervising attorneys or designated personnel.
8. Monitoring and Compliance
a. The Firm reserves the right to monitor intern activities involving AI tools to ensure compliance with this policy and other Firm policies.
b. Non-compliance with this policy may result in disciplinary actions, including termination of the internship.
9. Acknowledgment
By using the AI tools provided by the Firm, legal interns acknowledge that they have read, understood, and agree to comply with this AI Use Policy. Violation of this policy may result in disciplinary action.
10. Policy Review
This policy will be periodically reviewed and updated as necessary to reflect changes in technology, regulations, or Firm practices.
Our Policy of  Equality and Neutrality 
At Josh and Mak International, we firmly believe in maintaining a neutral and inclusive work environment that respects the diversity of our team members and upholds their rights to freedom of expression. We are committed to treating all individuals with fairness, regardless of their political and religious views, race, or sexual orientation.
Internship Selection Based on Merit: Our internship selection process is strictly based on the acumen and qualifications of the candidates. We do not discriminate or give preferential treatment to any individual based on their belonging to any particular minority or segment of society. All applicants are evaluated solely on their skills, capabilities, and potential to contribute to our organization.
Equal Opportunities: We provide equal opportunities for growth and development to all our interns and employees. Gender, beliefs, political views, race, or any other personal characteristics will never be a factor in determining promotions, project assignments, or other professional opportunities at Josh and Mak International.
Respect for Freedom of Expression: We value open and constructive dialogue within our organization. We encourage our interns and employees to express their thoughts and opinions in a respectful and professional manner. We respect diverse perspectives and believe that healthy discussions contribute to personal and organizational growth.
Social Media Conduct: During the internship, we expect our interns to maintain a professional image on social media platforms. While we respect their right to have personal opinions, we kindly request that interns refrain from engaging in controversial political opinions and discussions that could negatively impact the reputation and image of Josh and Mak International.
Creating a Positive and Inclusive Online Work Environment: We are committed to fostering a positive and inclusive work culture where everyone feels valued and respected. We actively promote diversity and seek to build a team that reflects a wide range of backgrounds, experiences, and perspectives.
Confidentiality and Privacy: At Josh and Mak International, we prioritize the confidentiality and privacy of our interns and employees. We ensure that personal information, including political or religious beliefs, is treated with utmost care and is not used for any discriminatory purposes.
By adhering to these principles, we aim to create a workplace that encourages collaboration, creativity, and mutual respect. We value the contributions of each intern and employee and remain dedicated to promoting an environment that embraces diversity and nurtures talent.