Dear All (and those in the PPE business who pretend not to peek occasionally at my brutally honest blogs, just for fun and heart attacks).
It is the end of the year 2020 and looks like no one in the USA or Europe made a killing on those large million dillion billion LOTs of 3M1860 masks did they? So who bought those large quantities floating for cheap prices in Africa and South Africa and Dubai as of now.So if your state of mind looks like this picture, you have my sympathy.
First the Good News!

Considering that I have had the pleasure a while back to be invited as the A2A contact (Attorney contact) for 3 Major Authorized Asian distribution channels for 3M masks, with the duty to conduct due diligence on incoming purchasing parties, committing to this job was never easy.Why? Because I placed all three channels under my Acid Test of disclosing their AML records, bank account documents, shipping records, LOT certificate files, and SGS reports and even sent good old Fedor Gorshov (my trusted and amazing Chinese Operations manager to look into their warehousing channels).It took us 4 weeks to give the go ahead for this Channel to issue us an invitation, which we accepted.But we accepted this after 4 weeks of extreme paperwork, due diligence and verification.Why? Because we have a lawyers licence to maintain, and respect and credibility trumps any Suitcase full of Cash I can get by lying on Attestation Documents.

We intend to take this opportunity to dissect and re-dissect all fraudulent  offers out there, report dodgy offers to the FBI, and educate the public in general.

Now the question is why have none of the lawyers I have bumped into all year, done this exercise before taking responsibility to Attest on their Firm Letterhead that the Purchase party or Seller party they represent have the masks they claim to have.And When I mean Bump, I mean a train wreck because they were all twiddling fingers after their clients could not come up with LOT certificates or Bank Statements or SGS reports.These are the same lawyers with websites having associates that look like Super-Models posing for some magazine.
It took me a gruelling six  months to sort this mess.First of all I could not and still cannot make sense of this symbol on 3M1860 boxes.If anyone can help please email me.Meanwhile if I find out what the symbol is for and it co-relates to my initial hypothesis that this symbol is mostly found on Duplicated LOTs which have been scanning for all year.Our amazing Operations Fedor Gorshkov was of the view that the symbol was of a spider (possibly a black widow) cruelly devouring a snake on a wire.Well, I have yet to develop an alternative view after looking through the entire good image reverse search database.I personally thought it looked like some Palm tree logo typical of Gulf Country Logos.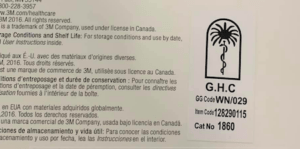 While it is understood that the 'Imported by 3M Peru Sticker and their Service Guarantee' makes sense for models which flowed into the international supply chain from USA to Peru before the Pandemic was taken seriously by USA (I am guessing April 2020).In case you don't know what the Imported by 3M Peru sticker means or looks like see below.It is that delightful colourful round colour changing anti-counterfeit label which you will never find on Masks beyond April 2020 from US LOTS of 3M1860.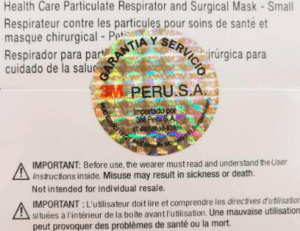 The Sticker does not mean, that the masks are from 3M Peru.It means that the masks went to 3M Peru from 3M USA and then were released into the Global Supply Chain.
Anyways for the GHC models which keep appearing for 2.3 to even 1.8 USD per Unit on the Billion Dillion LOTS of OTG in HK I found the following giveaways that what is being offered is duplicated Trash.If you are weak of heart and have been a part of any of these ventures without ending up in a counterfeit Sting Operation, please stop reading now.The SGS report (a full convincing 10 pager) was given to one of our clients who ordered a detailed due diligence on a large offer they were seeking to close with 10 million USD of their hard earned money.What caught our eye was the ordering party on the Test Report and the clearly unmatched FONT.
SGS China showed very little clue or concern for the report, and for good reason too.
Look closely.Sample Colour =Lake Green.
Really , if that colour exists? SGS China's reports often prefer to write Blue as the colour of the 3M Masks.Sea Green being an invention of complicated, non-colour blind Westerners.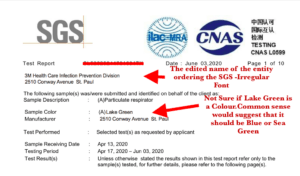 The initial LOT Barcode Label we were shown looked like this :

Then the Font Style of  word 'LOT' got much worse with the other packets.The Funny thing is why is there a LOT number B18130 with the year of manufacturing as 2020? 
All B LOTs from 2020 have the series starting with a 2 and not a 1.
B18130 would have occured back in 2018 (if the LOT number existed at all.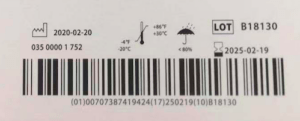 Here are some old LOT stickers from 3M Singapore.Notice the difference in design and shape.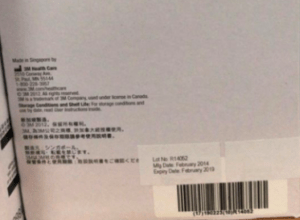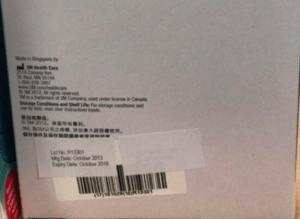 Upon inspection of their 'preparation facilities'.Ok I have seen 3M9332+ plus masks neatly packed in their sterilized fish like states in 3M Distribution Warehouses in Bulk Cartons.We could not make sense of Medical Masks which are supposed to be handled more carefully, laid out like this before being packed in Boxes.These are for Medical Facilities correct? How do I know who is touching those cheap plastic covers.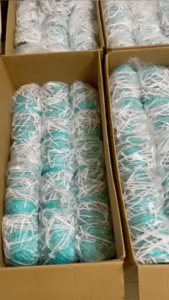 So as of now we know we know that we should not buy what we cannot see or touch.This leads to other nuances of holding and verifying stuff you are buying in your own hands.
Packaging
And then we did some more comparisons via some very good friends in the Middle East who work with one of the best PPE Companies in Dubai we advise regularly :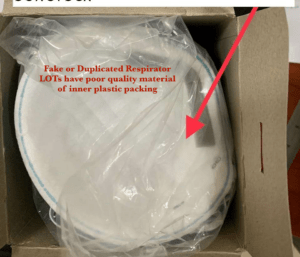 The aim was to match our findings with their findings of the masks they have compared with those they received from proper 3M Middle East Official Distribution sources.
The Lady Nurse Appearing on Box Images of 3M1860 is for 3M Singapore Models.The ones we have review have been manufactured post May.There a principle to understanding how LOT numbers work.R LOTs are from 3M Singapore
If you find an R LOT with English/Spanish written on it, it is a Red Flag.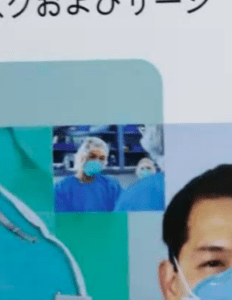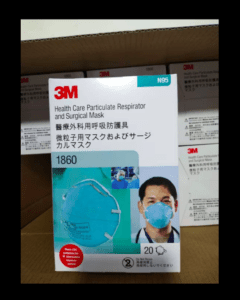 The Pre-April Made in 3M USA Models, whether Imported by 3M Peru or other 3M facilities in the Middle East, will have the picture of a male nurse in the background.Below is a picture of a genuine 3M USA mask box compared with a Fake box.Remember the R LOT should not have an English Spanish Box and the female nurse is a dead give away.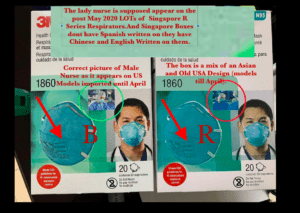 The last question as far as packaging is concerned is that of 3M Tape on Mask boxes (see below cartons in the background).This remains a debate.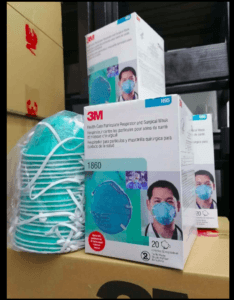 The masks our legal team has seen and photographed in genuine 3M Authorised Distributor Facilities do not have 3M Tape.It is plain transparent tape.The proper stamp from the country of Origin is also very important.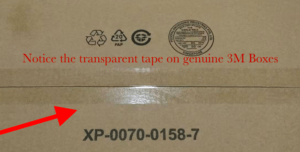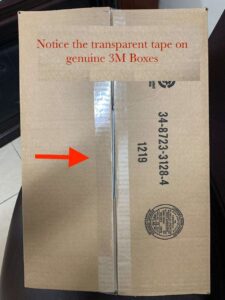 Visual and Physical Examination of 3M1860 Masks 
Then physical and visual examination showed us the following discrepancies.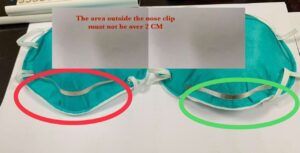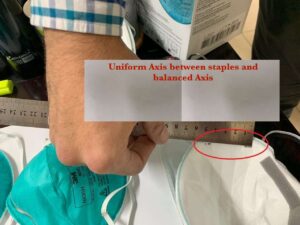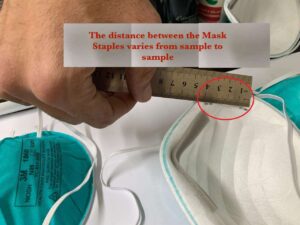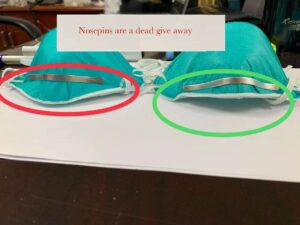 Dodgy Offers Coming From People In USA Claiming to have masks available at 2.2 or 2.3 USD per Unit.
The Red Flags are clear:
See the latest Bill of Lading Information from 3M China to FEMA USA (Courtesy Panjiva Shipping Database)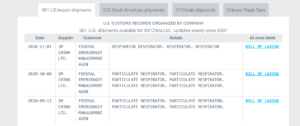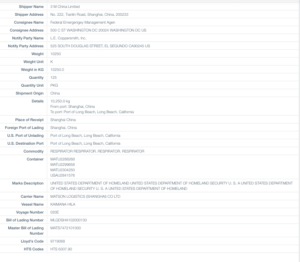 The last Ocean Shipment for FEMA from 3M China for all 3M Respirators including 3M1860 and 3M9332+ left on the 1st of November 2020 (Source Panjiva Shipping Records).
These shipments have increased since Trump's agreement in April with 3M China to route almost all their Respirator Production to USA.The Press Release from 3M Reads As Follows (extracts are below)
"Today 3M and the Trump Administration are announcing a plan to import 166.5 million respirators over the next three months to support healthcare workers in the United States.

These imports will supplement the 35 million N95 respirators we currently produce per month in the United States."

3M will import 166.5 million respirators over the next three months primarily from its manufacturing facility in China, starting in April. The Administration is committed to working to address and remove export and regulatory restrictions to enable this plan. The plan will also enable 3M to continue sending U.S. produced respirators to Canada and Latin America, where 3M is the primary source of supply.

As the pandemic unfolds in different stages around the world, 3M will continue to work with governments to direct respirators and other supplies to serve areas most in need.

Beginning in January, 3M ramped up production of N95 respirators and doubled its global output to 1.1 billion per year – including the 35 million a month in the United States. 3M has already put into motion additional investments and actions that will enable it to double its capacity again to 2 billion globally within 12 months, with additional capacity to begin coming online in the next 60 to 90 days. In the United States, for example, 3M expects to be producing N95 respirators at a rate of 50 million per month in June, a 40 percent increase from current levels.

Last week 3M announced additional actions to address price gouging and counterfeit activity related to its respirators. 3M has not changed the prices it charges for respirators, and will take decisive action against those seeking to take illegal and unethical advantage of the COVID-19 outbreak. Source 3M Press Release April 2020 "
The above extract tells us:
There are no Dillion LOTs or Billion LOTS out there for sale.
Yes there may be private stocks of 10-20 million or a bit more out there.
3M USA's initial capability was not over 35 million per month and given that it had to share its stock with Mexico/South America and Canada, it was already in dire straits supply wise.
Then President Trump came up with a very bright idea of asking 3M China for help despite his ' propaganda' against everything Chinese and shamelessly and thanklessly allowed FEMA to guzzle onto 3M China's output.3M China has Nine 3M Respirator Plants as of this year.
And then /'Enterprising' Chinese merchants, doing what they does best, also thought it would be fun to create duplicate LOTS of the FEMA bound shipments.Just for fun and some cash on the side.

Mr Kitty says Duplicating 3M 1860 LOTs can be a lot of fun.This is NOT a picture of an Enterprising Chinese Merchant.

Anyways, this resulted in ridiculous Advertisements like OTG LOTS of 3M USA Stock in Hong Kong and Mexico where very loose customs laws exist.
Ironically these made in China 3M masks use duplicated LOT certificates from 3M USA.This may be abuse of those certificates being used under authority and orders placed at 3M China via 3M USA.We don't know the inside story but why could a 3M China respirator have a 3M USA LOT certificate?
China can duplicate anything, overnight and make it look beautiful and price it very attractively.
So for people claiming that prices have drastically dropped, they have not.Africa and South Africa is flooded by these fake respirators which they will never find out about.3M South Africa has no clue about these cheap 3M 1860 Respirators Entering the territory.
Kudos to Saudi Arabia, it seems that the Fake Lots have not made it there yet, so the market price for these respirators remains at 5 to 7 USD.This is not price gouging, in my opinion, considering that genuine 3M1860 masks are very rare and Saudi customs is very particular over paperwork.
The same fake respirators have made their way to India, Pakistan and Bangladesh.The most duplicated LOT is the LOT B20016 which is supposed to be US LOT number and yet it keeps appearing on Boxes with 3M Singapore's characteristics.Sometimes the respirators are very third rate copies.
You know those POL videos everyone is putting their name on, which cost like 500 USD to make in staged 3M warehouses? None of the owners of those warehouses or the people whose name is in the Video can come up with a single LOT certificate or how those Billions and Dillions were flown to Hong Kong from 3M USA.Or why is FEMA allowing US made masks to be exported to HK when they are desparate even after importing 3M 1860 Masks from 3M China.
The cheap masks are attractive to brokers as they give an attractive 10% cushion of brokerage fees to them.But no one cares if they are genuine or not.The genuine private LOTS are very rare and only a few companies can access these.These fake LOTs can easily be smuggled via Shenzhen to HK and shipped out via dodgy paperwork.
The question is, who is suffering in the end.
The Medical Staff and the Taxpayers?
Or the hardworking intermediaries who were forced to reject the Genuine 3M1860 LOTS for the Fake LOTs because of 'attractive commissions' much needed by their fellow brokers.I am sure some of the 3M Brokers have a conscience and do question basic logic.
Anyways, in our continuing series, we will scan and examine ridiculous and dodgy 3M1860 offers from Enterprising US PPE and Financial Consulting Companies who claim to have 'relationships' with dodgy Distributors that don't exist.
Congratulations if you read all of this without getting a Heart Attack by now.