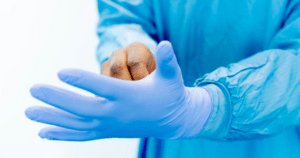 Additional Notes from D6319 – 10(2015) ASTM International (ASTM)
Title: Standard Specification for Nitrile Examination Gloves for Medical Application
Description
This specification covers certain requirements for nitrile rubber gloves used in conducting medical examinations and diagnostic and therapeutic procedures.
Standard Type(s)
Specification
An explicit set of requirements to be satisfied by a material, product, system, or service: Examples of specifications include, but are not limited to, requirements for; physical, mechanical, or chemical properties, and safety, quality, or performance criteria. A specification identifies the test methods for determining whether each of the requirements is satisfied.
Personal Protective Equipment
Hand and Arm Protection
All equipment and/or accessories (whether or not detachable) designed and manufactured specifically to protect the arm and/or the hand this includes all garments protecting the hand or part of the hand, including gloves, fingerless gloves, mittens, garments protecting the fingers only or the palm only, etc. Potential hazards include skin absorption of harmful substances, chemical or thermal burns, electrical dangers, bruises, abrasions, cuts, punctures, fractures and amputations.
Medical gloves
Hazards
Biological
Biological
SOC Codes
29-0000 Healthcare Practitioners and Technical Occupations
29-1000 Health Diagnosing and Treating Practitioners
29-1011 Physicians, Chiropractic
29-1020 Dentists
29-1060 Physicians and Surgeons
Standard References
Referenced Standard
ASTM D3578 – 05(2015) – Specification for rubber examination gloves
ASTM D5151 – 06(2015) – Standard Test method for detection of holes in medical gloves
ASTM D6124 – 06(2017) – Standard Test Method for Residual Powder on Medical Gloves
Conformity Assessment Notes
Set of requirements to be satisfied, please see the full standard for complete details.
Comments
Additional References:
ASTM Standards
D412 Test Methods for Vulcanized Rubber and Thermoplastic Elastomers–Tension
D573 Test Method for Rubber –Deterioration in an Air Oven
D3578 Specification for Rubber Examination Gloves
D3767 Practice for Rubber — Measurement of Dimensions
D5151 Test Method for Detection of Holes in Medical Gloves
D6124 Test Method for Residual Powder on Medical Gloves
ISO Standard
ISO 2859 Sampling Procedures and Tables for Inspection by Attributes
HE*Gloves,w/opowder,nitr,M,disp,box/100General Description
HE*Gloves, without powder, nitrile, Medium, disposable, box/100
Technical Specifications
Material: nitrile
Powder free
Non-sterile
Single-use disposable
Size: medium (7 to 8)
Fits either hand
Thickness at fingertips of ≥ 120um Box of 100 gloves
CE marked – Conform to EN-455 and EN 374
Labelling on the primary packaging:
Name and/or trademark of the manufacturer.
Manufacturer's product reference.
Type of product and main characteristics. If the packaging is not transparent, it must bear a diagram (preferably actual size) showing the essential parts of the product and indicating the position of the product in the packaging.
Lot number prefixed by the word "LOT" (or equivalent harmonised symbol) (if applicable).
Expiry date by year and month, prefixed by the word "EXP" (or equivalent harmonised symbol) (if applicable).
The words "for single use" (or equivalent harmonised symbol).
The words "destroy after use" (if space allows).
Number of units per primary packaging (if applicable).
Information for particular storage conditions (temperature, pressure, light, humidity, etc.), as appropriate (or equivalent harmonised symbol).
Manufacturer's instruction for use.
*More information being updated here soon.